Games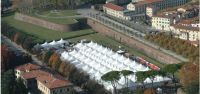 Al centro del programma della rassegna dedicata al gioco e al fantastico, i 20 anni del Fantacalcio e i 15 anni di Magic The Gathering festeggiati assieme a quelli di Lucca Games, per coronare un cammino iniziato insieme nel 1993.
Come ogni anno, tra i grandi ospiti dell'edizione, spiccano i tre Guest of Honor:
Chris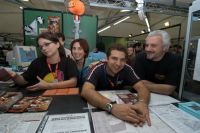 tian T. Petersen
,
Mark Tedin
e
Tracy Hickman
.
La manifestazione ludica italiana per antonomasia, raggiunge quindi il suo XV anno di età, e continua il percorso di consolidamento e sistema di relazioni, riconfermando la vocazione internazionale e la presenza dei videogame, sviluppata alla ricerca di un matrimonio possibile tra gioco tecnologico e non tecnologico. Al fianco di Electronic Arts, Atari e del duo Intel-Asus con la Electronic Sports League avanza un nuovo importante publishers come Ubisoft.